Disease Background
Nephrotic Syndrome (NS) is a condition associated with increased loss of protein into the urine resulting in tissue swelling and eventually development of edemas. The edemas can develop in the hands, feet, ankles, and face. Edemas can even develop in the lungs where it is associated with dyspnea (shortness of breath).
Untreated or insufficiently treated NS will in many cases be associated with hypercholesterolemia, increased risk for blood clots, increased risk for infections and can develop into chronic kidney disease that is associated with increased risk of development of cardiovascular disease and risk of development of end stage kidney disease and thereby need for renal replacement therapy (dialysis).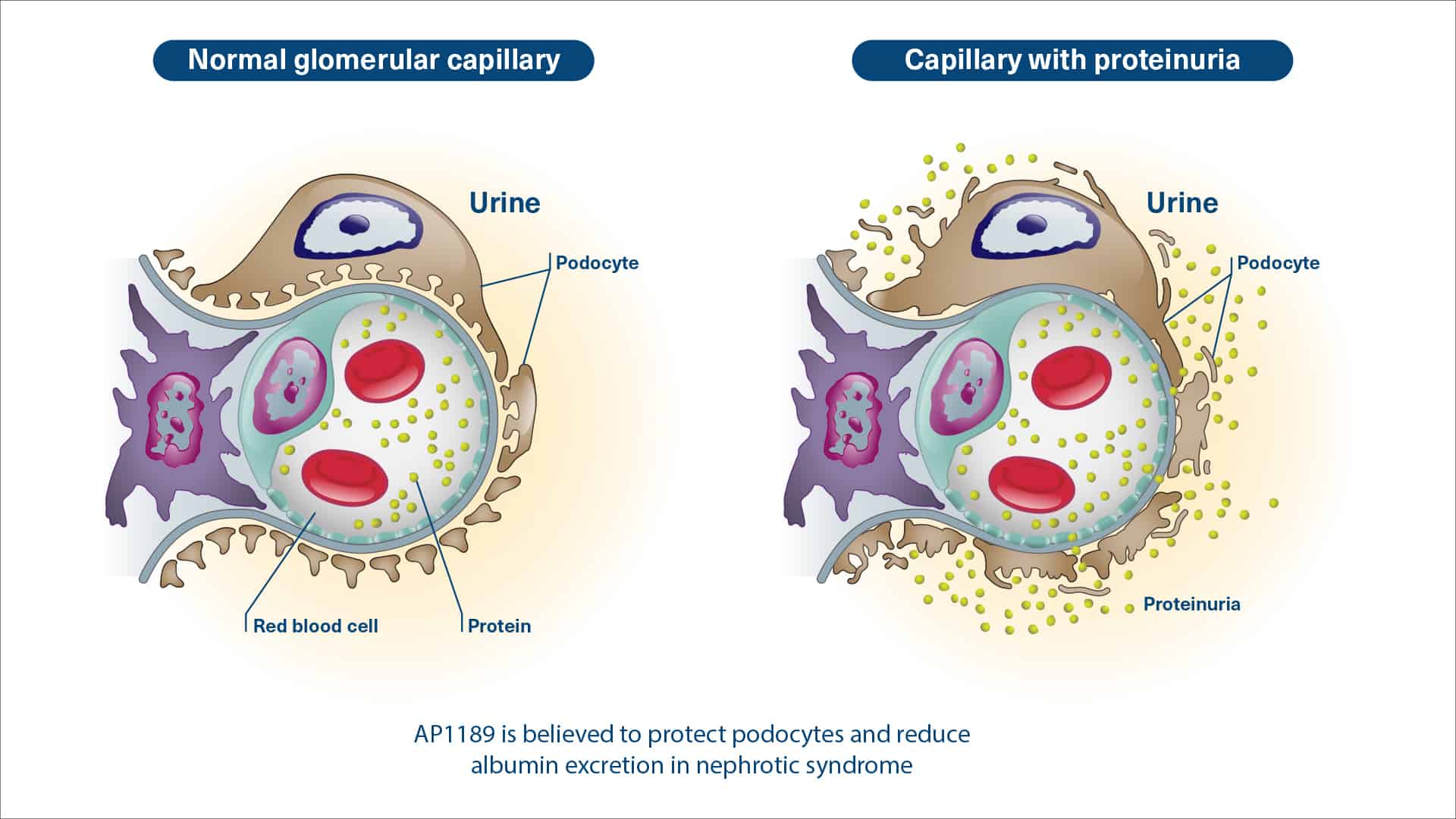 Membranous nephropathy (MN) is one of the frequent causes of NS. MN can be primary ie is the primary disease or it can be secondary to other diseases, including systemic lupus (often called Lupus Nephritis), cancer or seen following treatment with certain drugs.
Clinical development of AP1189 in idiopathic membranous nephropathy (iMN)
AP1189 is being tested in an exploratory, randomized, double-blind, multicenter, placebo controlled P2a study with repeated once-daily 100 mg dosing for 28 days to assess the safety, tolerability, pharmacokinetics, and efficacy of AP1189. The study population will consist of patients with idiopathic membranous nephropathy (iMN) who are on ACE inhibitor or angiotensin II receptor blocker treatment. A minimum of 18 subjects are expected to complete the study. Up to 23 subjects are planned to be enrolled to account for up to 25 % discontinuation rate. The rationale for the number of subjects required is not based on statistical consideration.